Mud Crab Shop
How many Mud Crabs will you need?
What's the occasion? Will you need small, medium or large?
Check our guide below, and remember there's a minimum order of 6kg.
Delivered Live by Air Freight
You are ordering wild caught Queensland Gulf mud crabs.
And to guarantee maximum freshness, they're delivered live.
They will be freighted to your nearest major airport. Refer to the list of airports serviced here.
Delivery is charged by the box, so refer to the buying guide in the right hand column >>>
Order your Mud Crabs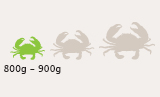 $49.00
per kilo
minimum order 6kg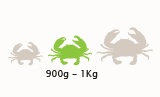 $49.00
per kilo
minimum order 6kg